MacLean Legacy Society – Estate Planning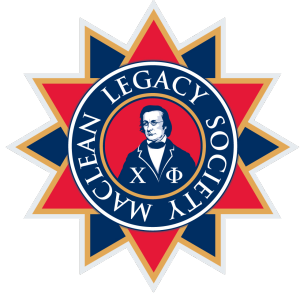 The MacLean Legacy Society recognizes those generous Alumni and friends who have projected their love and support for Chi Phi and its mission beyond the horizon of their own mortality by making a deferred or estate gift of $10,000 and higher.
Giving through an estate gift such as bequests, charitable remainder trusts, charitable gift annuities, living revocable trusts or beneficiary designation on a life insurance policy or retirement account provides an opportunity for Alumni to defer making a significant gift until after their death or the death of a loved one. Often, these deferred gifts become game-changers due to the tremendous positive impact they make on an institution like Chi Phi.
If you would like sample language to use in your will to establish a gift benefiting the Chi Phi Educational Trust, click here. If you would like more information or discuss the best deferred giving method for you, contact Director of Development Laura Landry at 404.231.1824 or landry@chiphi.org.
MacLean Legacy Society Members
(as of July 25, 2015)
Anonymous Donor #1
Anonymous Donor #2
Anonymous Donor #3
Michael S. Beall, Alpha 1976
Bates Block, Gamma 1940, Eta 1942 *
Frank Blocker, Jr., Alpha 1950
Reginald Brooks, Alpha-Chi 1946*
Brooks R. Caldwell, Epsilon Delta 1925 *
Rocco Henry Carnevale, Mu 1980
Ron Coleman, Alpha Zeta 1983
Jack Cook, Alpha 1948 *
Stuart Currier, Theta 1952
David F. Davis, Theta Delta 1973
James Davis, Omega 1975
Robert Estes, Theta Delta 1976
Adam F. Feinberg, Delta Zeta 1990
Fort Flowers, Omega 1983
Ken Fredericks, Theta Delta 1980
Ron P. Frank, Nu Delta 1983
Richard Gilbert, Rho 1962
Joseph V. Goeller, Iota Delta 1963
Ed Greenwald, Pi Delta 1971
Tom Guinther, Iota 1972
Preston Herren, Gamma 1964
John D. Hewlett, Alpha-Mu 1940 *
James B. Hill, Iota Delta 1960
Joseph E. Jones, Sigma 1958
Robert D. Jones *
David A. Kellogg, Lambda 1984
Robert N. Klaffke, Alpha-Tau 1978
Herman Charles Krannert, Sigma 1912 *
George Langford, Alpha 1950
Randy Loos, Theta Delta 1977
Darryl McCall, Psi Delta 1982 *
Robert Mizell, Alpha 1978
Eugenie L. Neel *
William D. Nuss, Iota Delta 1968
Robert D. Parker, Nu Delta 199
Wray Pearce, Tau 1966
Donald Pearson, Theta Delta 1959
Ricardo G. Perez, Theta Delta 1981
Gray C. Ramsaur, Theta Delta 1939 *
Jonathan J. Rawls, Rho Delta 1985
Senour Reed, Eta 1979
Andrew W. Schultz, Sr., Alpha Delta 1960
Jeffrey Shields, Alpha 1969
Ross S. Shoolroy, Iota 1939 *
Christopher J. Shuler, Alpha Zeta 1984
Raymond T. Snapp, Iota Delta 1967
James Soderquist, Alpha 1967
George Spaur, Epsilon Delta 1925 *
Harold C. Steinke, Kappa 1943 *
Herman O. Swanson, Alpha Tau 1914 *
Daniel E. Turner, Alpha Zeta 1991
Al Warrington, IV, Theta Delta 1958
Arthur Zack, Mu 1957
*Chapter eternal