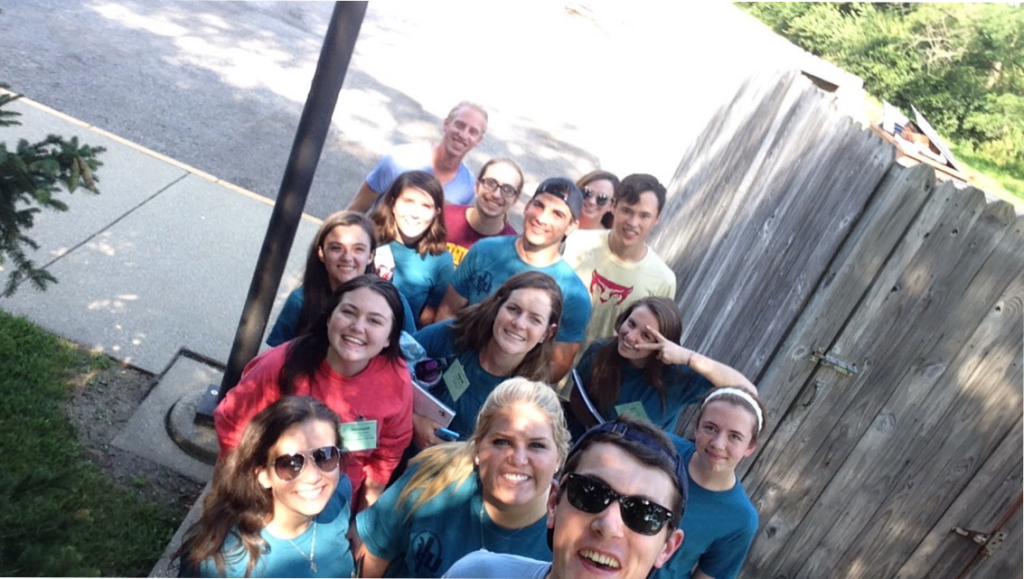 by Seth Regan, Gamma Zeta 2017 (pictured in front with sunglasses)
When I was driving to the airport for my flight from Charlotte, NC to Indianapolis, IN, I was nervous. I knew I would learn a lot by attending the Undergraduate InterFraternity Institute (UIFI), but what exactly was I going to learn? Once I boarded the plane, I was excited to find I was seated next to another fraternity man who was going to UIFI as well. He and I talked about where we go to school, our Chapters and why we wanted to attend UIFI.
I was excited I had made a friend before I arrive and was sure we would hang out for my entire UIFI experience. However, when we got to the Alpha Xi Delta house at Indiana University, we were quickly split into different groups.  While we did get to hang out a bit, we spent most of our time with our groups or our "chapters" for meetings and activities.
Within 30 minutes of meeting my chapter had already warmed up to one another. It was almost as if we had known each other for years and were together for a reunion. We learned together, shared laughs and hardships and became closer than I thought any group of people could in less than a week.
UIFI taught me many valuable lessons. Some of the most important lessons that have stuck with me since were putting yourself out there, owning the good and bad of Greek life and supporting the entire Greek community. It wasn't difficult for me to put myself out there. People who know me, know I am extremely outgoing. I like to talk to others and get to know them. I like to make connections and network whenever possible. Putting myself out there for other people to see not only made them comfortable in doing the same, but also provided me with the best possible UIFI experience.
There are many ups and downs to Greek life. When some people put on letters, they think it's their ticket to partying. The people I attended UIFI with were leaders and visionaries and knew that there was so much more to Greek life. We shared ideas to change the Greek community for the better and discussed ways to help those members struggling to accept changes. Standing behind our brothers and sisters, even in dark times, just goes to prove that we are truly a family held together by bonds and values. Fraternities and sororities are so much more than group of college students who party together and break laws.
Lastly, one of the most important things I learned was the need to support the entire Greek community. One good way to support the Greek community (and our local community), are through other organizations' philanthropic efforts. We're all Greek and doing something for the greater good! Speaking from experience, I enjoy donating to other fraternity and sorority fundraising events. All Greeks are doing these events to make a difference and I want to be a part of that.
UIFI was an amazing experience I will never forget. At the end of the institute, I was genuinely sad to leave my new friends as we all went back to our schools. However, I realized that we were being sent off with more knowledge than before and could better the Greek community around the nation. I am very excited to be back at the University of North Carolina Wilmington to share my experience with my Brothers and be a leader for them as we journey toward making the Greek community something everyone wants to join. Using what I learned at UIFI (and help from all of my Greek brothers and sisters), we can change the Greek community which is a reward worth the work.